We're a bushcraft, guide training and wilderness expedition school and traditional Maine Guide service in continuous operation since 1999. We offer a variety of training options including professional wilderness guide and instructor training programs that are college-accredited and GI Bill ®-approved.
---
The Ivy League Of Outdoor Schools With Over 25 Years Of Full-Time Experience
We help people become more skilled, more knowledgeable, more experienced and more confident by using traditional wilderness skills, a few simple tools and field-based experience. Whether you're looking to go from city slicker to competent outdoor professional, want to experience a remote expedition, or just want to learn a few new outdoor skills, we've got you covered. Read through our site, check out our media hub for our videos, podcast and blog, and if you have any questions let us know.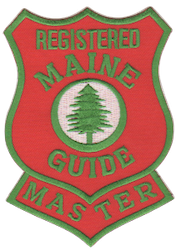 a
---
Our Immersion Programs: The Most Comprehensive Professional Training Programs In The USA. College-Accredited, GI Bill ® Approved.
We've been training professional wilderness guides and bushcraft instructors in our immersion programs since 2001. These are full-time, residential, professional training programs, where students live off the grid for the duration, experiencing the woods life first hand and learning the lessons it has to teach. Our work has been recognized by universities and government agencies, demonstrated by approval from the Veterans Administration and an articulation agreement with Western Colorado University.
The Wilderness Bushcraft Semester – Summer,Fall
Length: 9 Weeks
Maximum Size: 12
College Credits: 10
GI Bill: Yes
When: Summer, Fall Terms
Sessions Per Year: 2
Tuition: $7250
Professional bushcraft & survival instructor training. Our flagship course.
– Learn More –
Wilderness Canoe Expedition Semester – Spring
Length:
4 Weeks
Maximum Size:
10
College Credits:
5
GI Bill:
Yes
When:
Spring Term
Sessions Per Year:
1
Tuition:
$4200
A week of intense bushcraft skills training followed by three weeks of guide training while canoeing the remote rivers of northern Maine.
–
Learn More
–
Expedition Instructor (XI) Program
Length:
25 Weeks
Maximum Size:
6
College Credits:
15
GI Bill:
Partial
When:
Spring, Summer, Fall Terms
Sessions Per Year:
1
Tuition:
$12,800
Combining our training programs into 6 intensive months.
–
Learn More
–
---
2023 Expedition Instructor (XI) Program, 6-Month Wilderness Instructor Immersion Training
In 2023 we're making a few changes to our Expedition Instructor (XI) Program. Visit the XI page for details. After 24 years and 58 long-term immersion programs we've developed some expertise making a living teaching others about the natural world. This program is designed to pass that specialized knowledge on to a small group of students. Specifically for those looking to thrive in the outdoor industry, it is designed to make you a content knowledge expert in outdoor living skills. But it is also designed to train you to be among the best instructors in the business, as well as mentor you in starting and running your own business. The program starts with our spring Wilderness Canoe Expedition Semester, continues in summer with The Wilderness Bushcraft Semester, and finishes with a teaching assistant position on the fall Wilderness Bushcraft Semester. For more details, visit the XI Program page.
---
Our Experience: 25 Years And 60 Long-Term Programs
Experience matters. Our programs and methods are based on our extensive experience, not untested theories. No other school has our level of experience. No school has been doing it longer. No school has run as many long-term programs. Read more about founder Tim Smith and our educational philosophy.
---
Our Instructors: Full-Time, Professional Guides And Educators Since 1999
We're professional educators. We've been teaching and guiding full time, year-round, since 1999. Our instructors are Registered Master Maine Guides and Registered Maine Guides licensed by the state in the hunting, fishing, sea kayaking and recreation categories. Since 2017 we've been background checked by the FBI (as part of the licensing requirements for Registered Maine Guides). We've got 25 years and 60 long-term immersion programs behind us.
We are not aspiring instructors, wannabee guides, hobbyist outdoorsmen, internet celebrities or reality tv personalities.
---
Our Curriculum: Practical And Tested On 25 Years Of Expeditions
Our curriculum integrates primitive living and bushcraft with the skills necessary to be a professional wilderness guide. It draws on a variety of topics, including expedition leadership, bushcraft, primitive living skills, field ecology (edible and medicinal plants, mammals and their tracks, weather, the night sky, etc.), expedition canoeing and snowshoeing, natural crafting, off-grid homesteading, fly fishing, building your own gear (canoe paddles, pack baskets, bows, crooked knives, etc.) and living a simple, outdoor life. No misappropriation of native spirituality, no woo woo ceremonies, no passing along untested theories. More course-specific details are available on individual course pages.
---
Our Assessment System: Skills From The Past, Assessment From The Future
Our assessment system is based around rigid documentation standards, rigorous practical examinations and completing functional field assessments. We set the bar high and students need to be focused and work hard to complete all of the requirements necessary to achieve our certifications. Our documentation sysytem is based in Google Classroom, and students complete daily and weekly assignments on a tablet, compiling an incredible amount of work and knowledge by the end of the course.
---
Our Certifications: The Most Demanding Wilderness Guide & Instructor Certifications Available Anywhere
Our certifications are based around our existing courses. They're not vanity certifications. They're objective skill assessments that consist of strict documentation standards, field-based practical examinations and additional research and academic work that demonstrate a comprehension that goes far beyond just being present for a course. They are physically and intellectually challenging and require significant documentation, physical labor and academic work. They are designed for those wishing to become industry professionals, not for those with a casual interest or the intellectually lazy. Learn more about our certifications.
---
Our Academic & Teaching Method: The Anthropological Approach
Our approach to teaching bushcraft and outdoor living is what we call the anthropological approach, and is based on studying the cultures that have lived close to the land for millennia. It's about being adaptable and learning from those who have done it and lived it, rather than trying to force a square peg into a round hole and force a pre-existing ideology onto a situation where it may not be appropriate. In addition to studying other cultures, this approach forces us to take an objective look at our own culture.
We also use the hard sciences of ecology to learn about the world around us and the principles of experiential education to build skill and muscle memory. Our programs are non-tactical and non-hippy.
---
Our Students: Seeking Professional Training And Personal Enrichment
We've had immersion-program students from all over the world ranging in age from 18-55. The common thread has been a strong interest in traditional ways of living on the land. While we're open to people from all walks of life, we specifically work with:
---
Tuition Options
We've worked hard over the years to make our programs available to as many people as possible. Through our partnerships with universities and the veterans administration, we've worked to provide students with a variety of ways to afford tuition. These include using 529 college savings plans, Americorps vouchers, federal financial aid, the GI Bill, vocational rehab through the Veterans Administration, and tuition financing. Not all options are available for all programs, and some require also working with partner institutions. For more information on these options, look under the Details tab at the top of the page.
---
Our Online Community: BushcraftSchool.com
Our own private little corner of the web. Sort of like a private facebook group, our online community is where we manage the day-to-day operation of our courses, offer online courses, a book club, trading post, etc. It's private, so you're not tracked, spammed with ads and don't have to put up with angry political posts. Whether you're a prospective student, alumnus, or just curious, it's free to join at BushcraftSchool.com.
---
Our Field School: 82-Acres Off The Grid In Masardis, Maine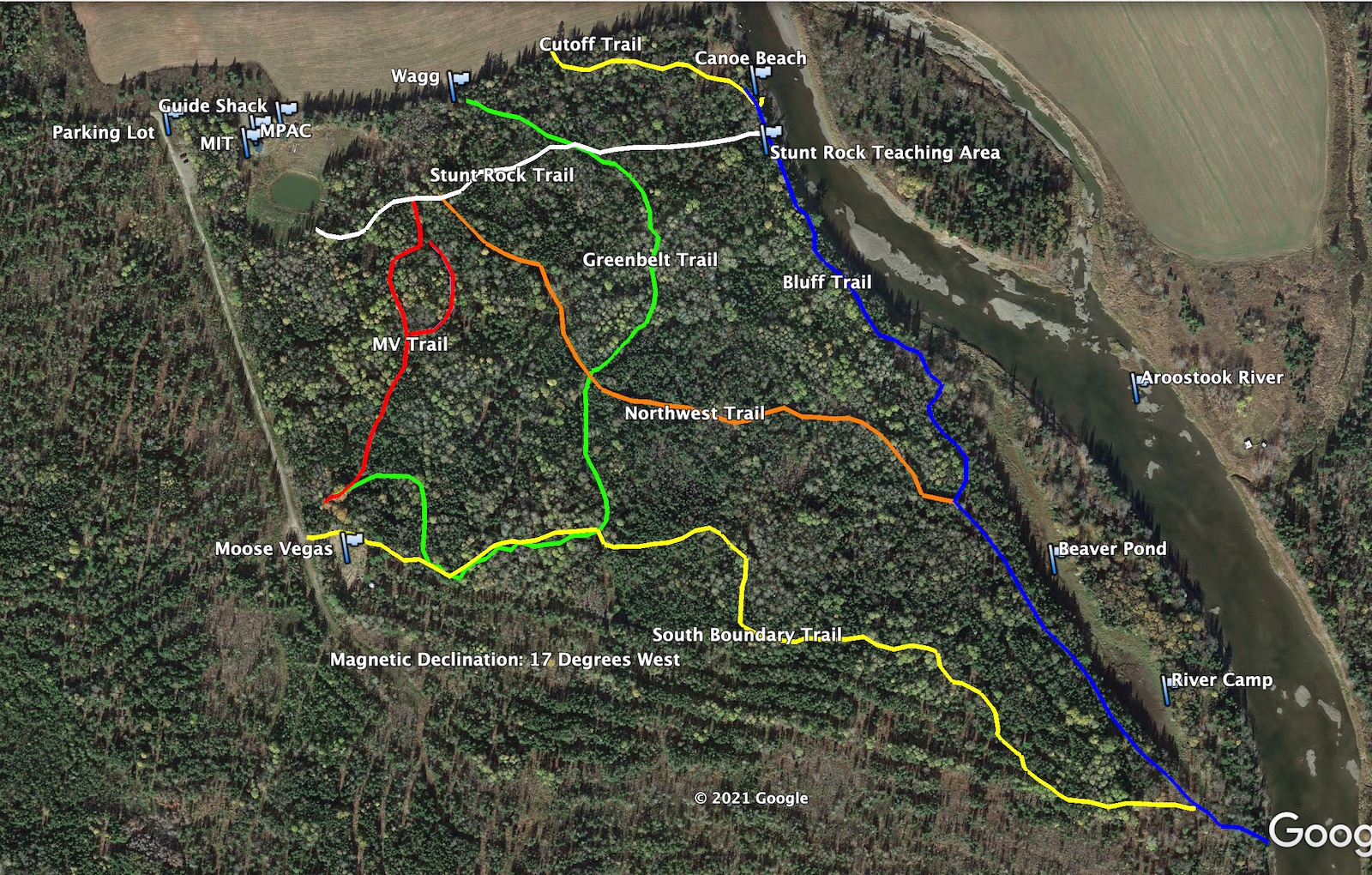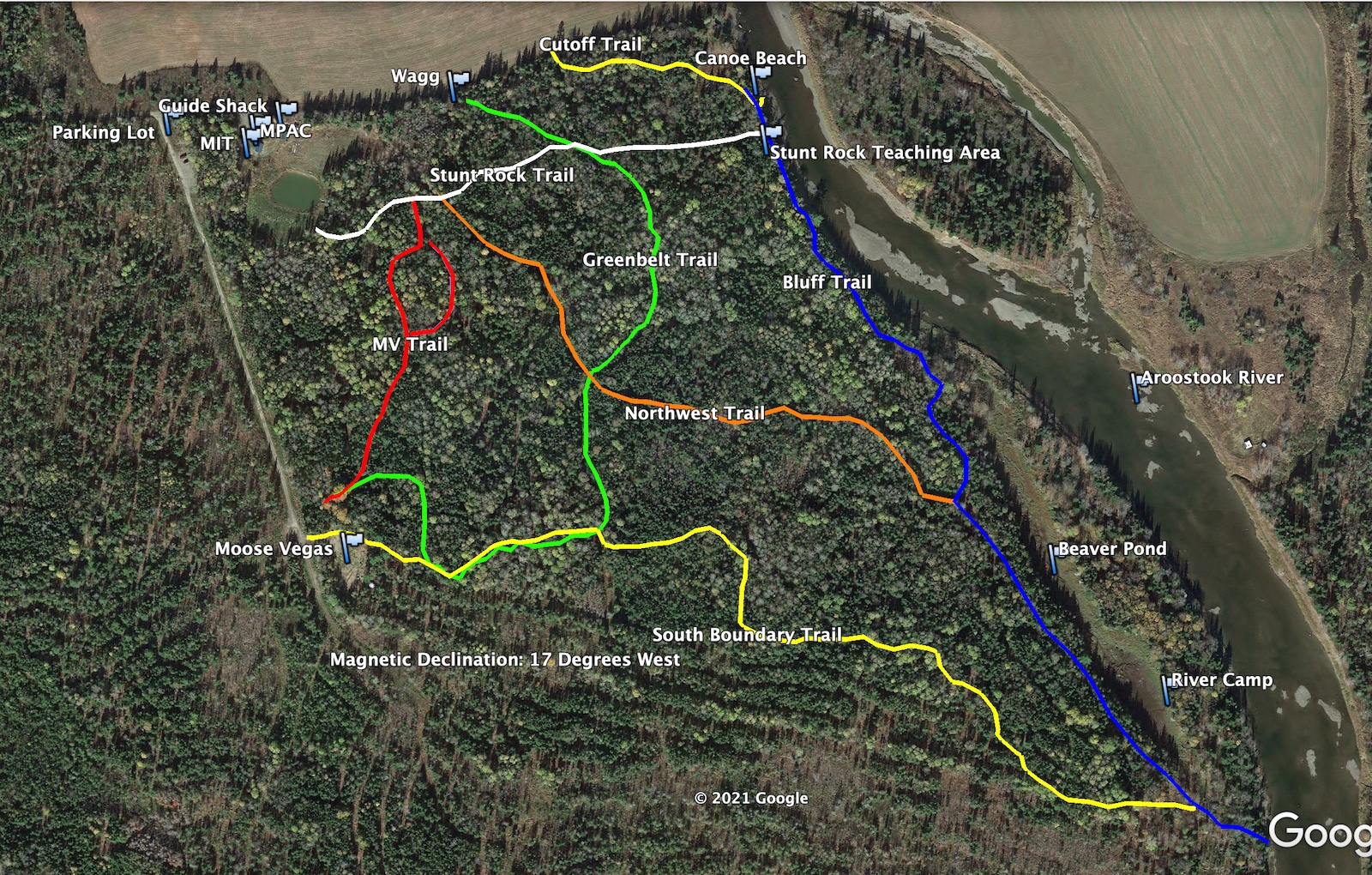 Located off the grid in the northern Maine town of Masardis, our 82-acre field school is on the banks of the Aroostook river and directly adjacent to the North Maine Woods, a 3.5 million acre working forest. From our driveway it is 88 miles west to the Quebec border. In that space there are no towns, pavement or permanent residents, just working forest. Aroostook county, Maine is bordered by Canada on three sides, and our rivers flow into Canada before they get to the ocean.
At the field school we've got 3 miles of hiking trails, half a mile of riverfront, a stocked trout pond, several beaver ponds and a boreal forest biome. We routinely see bald eagles, moose, deer and turkeys, as well as see bear sign and hear the coyotes at night.
But while our location is remote, it's surprisingly easy to get here. There are daily flights to Presque Isle International Airport (PQI) from Newark, NJ, on United Airlines. There is also daily bus service to Presque Isle. For more information on how easy it is to get here visit our travel information page.
Read more about the JMB Field School and get a video tour here.
---
Often Imitated, Never Duplicated
Over the years we've been copied, plagiarized, had our photos stolen and had entire web pages taken and reproduced countless times. But no one has been able to duplicate our experience. If authenticity and honesty matter to you, go with the original, not the imitation. We started running long-term wilderness immersion semesters in 2001. Now we've got 50 of them under our belt. We're still innovating, still leading, still going strong.
---
What Our Students Say
"The Wilderness Bushcraft Semester profoundly changed my life – allowing me to challenge myself through opportunities and experiences I had, previously, only dreamed of." – Jens Rasmussen, Fall 2007 Wilderness Bushcraft Semester

Read more of what our students have said: Testimonials and Google Reviews.
---
About The GI Bill ®
GI Bill ® is a registered trademark of the U.S. Department of Veterans Affairs (VA). More information about education benefits offered by the VA is available at the official U.S. government Web site at http://www.benefits.va.gov/gibill.