Documented and verified skills and experience in paddling, poling, lining and carrying canoes, along with the woods skills of life on the trail. Part of the Wilderness Canoe Expedition Semester.
---
The French had the term voyageur to refer to the men who canoed through the wilderness during the fur trade. It's a great word, but it's a bit overused these days. However, according to the book The People Of New France by Allan Greer,
"Another name sometimes given to voyageurs is engagés, indicating that one is a wage-earning canoeman."
Our goal is to teach people the skills needed to be a wage earning canoeman, or in the modern parlance, a guide. The certification is designed to verify that a person has the skills needed to pull off a self-planned, unsupported multi-week wilderness canoe expedition through various levels of whitewater. Skill is verified by subjective and objective criteria, including keeping a logbook to document experience, a canoe workbook to document skills, and a series of progressively more difficult practical exams.
Our canoe curriculum is based on the skills of Maine Guides that have been passed down among working canoemen of the northern forest for hundreds of years. This has been part of our curriculum since we started teaching in the 1990's because the canoe is the ultimate vehicle for wilderness exploration. What we teach and how we teach it has been designed in house over the past quarter century, born out of an interest in passing on the traditional skills and an interest in effective instructional design. The testing process originated as a part of our Journeyman Certification. In 2020 we separated the canoe sections out into the Engagé certification.
We have two levels of Engagé certification. Level one is focused on the skills, techniques and background knowledge of paddling, poling, lining and carrying in non-moving water. Level two builds upon this, taking you into the realm of rapidly moving water.
The skills are based on the Jack Mountain Bushcraft School curriculum, which is based off of a lifetime of canoeing and over two decades as a professional guide (engagés). This has nothing to do with the ACA or BCU canoe standards. Simply put, we've encountered numerous people over the years who had those certifications, but whose skills were sorely lacking in the bush. So we developed our own criteria, our own assessment system, and our own certifications.
What's wrong with the national canoe certifications? Lack of quality control.
I was once on a remote trip with a "certified paddling instructor" who didn't know how to paddle. This person had never heard of poling or lining. They might have passed a test, but they weren't much good on the water. I thought it was odd that they had a national certification but were unskilled. Then it happened again; less than a year later, on another trip, another certified 'instructor' that was a liability to the group. Fool me once, shame on you, fool me twice, shame on me. As a result of this experience I determined that the the national certs were not trustworthy. Maybe these two individuals were outliers and not representative of the organization, but I was not willing to invest more time to figure it out. So based on our extensive canoeing curriculum, we created our own standards and our own certifications. We've never wanted to become the next big thing. But we wanted a way to gauge, within our own community, whether people have done the work and put in the miles, so they'll know when they're ready to guide their own expeditions.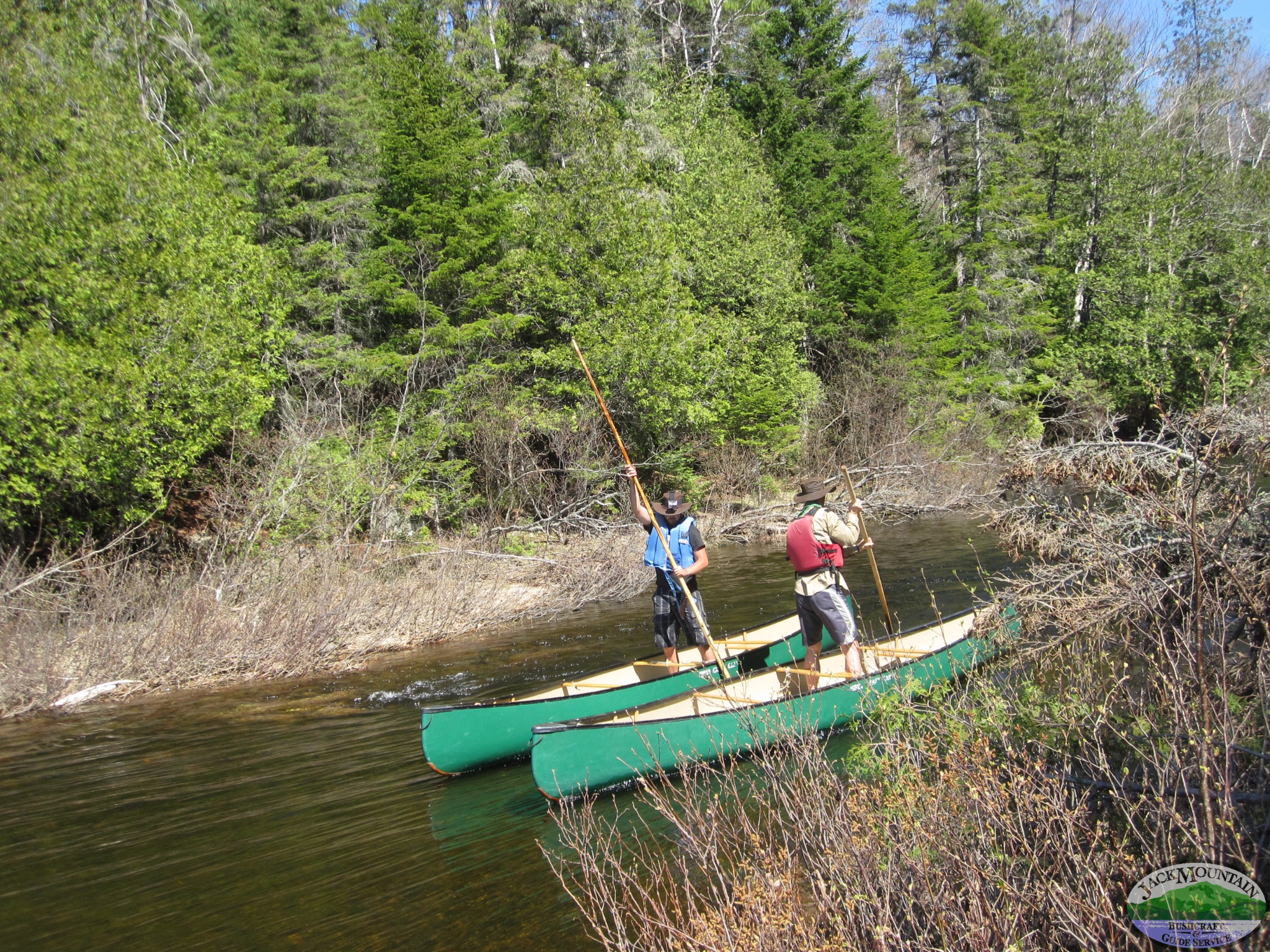 ---
Certification FAQ
How It Works
There is no extra tuition to enroll in the certification option for your field course. You simply let us know. If you decide to withdraw from the certification option, you can do so at any time. If you withdraw, we won't put an emphasis on testing you with practical exams, and you can just take the course for personal enrichment.
Specific Curriculum & Requirements
When you register for a course you'll receive all of the specific requirements for the certification. These will include some or all fo the following:
Logbook & Course Documentation
Workbooks
Benchmarks (Crafts, Skills, Meals, Number Of Repetitions, etc.)
Oral Exams
Practical Exams
No Social Promotion
Social Promotion is the practice of promoting a student to the next grade level, or granting a certificate, regardless of skill mastery in the belief that it will promote self-esteem. Regardless of how well we get along, what a great person you are, how much experience you have, or what you've done in your life up to this point, we do not socially promote. We have strict requirements and they must be met. Because we wouldn't want to devalue the achievement of people who have completed the JMBS certifications in the past, we will not make exceptions on the requirements. Making exceptions cheapens the achievements of everyone involved.
Time Constraints
Can I finish the requirements for the Certification at home after the course? No. As this is a standards-based certification, completion at home raises many problems and questions. First, how do we verify that a skill meets the standard required? Second, being able to finish at home allows a person to not use their time wisely and still receive the certification at the end of the process. This is not something we want to encourage. All of the people who have completed the certifications in the past have done so during the course at the field school.
Two-Week Writing Period
While benchmarks and course work must be completed during the course, there is a 2-week writing period after a course where students can clean up, digitize, edit, etc., their written work. This means that while you cannot complete certification requirements after the course, you can, in the example of a Boreal Snowshoe Expedition where you kept a hand-written logbook and workbook, type this up. All documentation must be typed in order to be valid for certification.
Starting Early
While we do not allow anyone to extend the time to get the work done beyond a course, we encourage people to start early. Contact us for more details on this.
What JMBS Certifications Are Not
JMBS Certifications are acknowledgements that a student has reached a standard and breadth of proficiency. They are not a job placement service (click here to read about jobs in the bushcraft industry). They are also not a promise of work with the Jack Mountain Bushcraft School.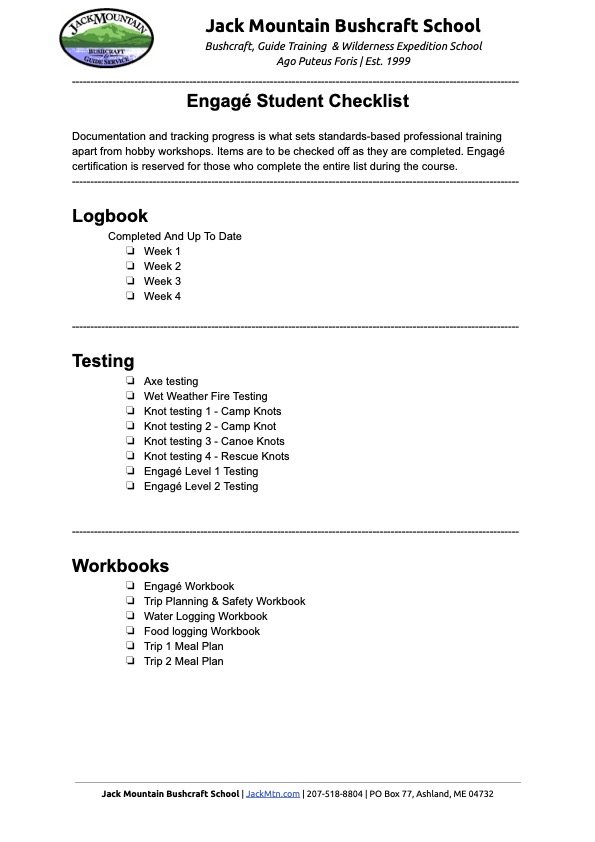 .