2022 Course Info
· Dates: 6/26-7/2
· Max. Size: 8
· Tuition: $1050
Poling, Paddling, Lining & Guide Training
---
Our popular introduction to traditional Maine guide canoe skills, this course will teach you the technical canoeing skills while also gaining significant real-world experience managing a group of people in a remote setting, cooking over a campfire, and the countless little things that add up to a successful trip.
For 2022 we've played with the idea of renaming this week the Advanced Canoe Poling Course, but for now we're leaving it as is. The curriculum builds each day, with day 1 on our pond, day 2 in the river, day 3 in faster water, day 4 in faster water still. The graduation exercise is to pole up and down a class 2+ rapid in total control of your boat. We also spend a day on a nearby lake, covering paddling strokes and getting enough miles to lock them in.
Exactly where we are each day is difficult to predict, as recent rains and water levels cannot be determined in advance. We are fortunate to have lots of great local water, so we don't have to travel far to have a variety of different waters to learn on. In the past, during a season of drought, we traveled as far as Chase Rapids on the Allagash to find the right water level. Most years we don't have to leave the Greater Masardis Metropolitan Area in order to find what we need.
---
Take Your Canoe And Guide Skills To The Next Level
This course prepares you for working as a professional guide and is crash course in canoeing and traditional camping.
We'll spend the week working on two different but related curriculums. First, you'll learn and refine the skills of paddling, poling and lining canoes on increasingly challenging water. The second curriculum focuses on the management and leadership of a group and the skills of keeping them comfortable. This isn't a theoretical course on leadership like what is commonly offered through outdoor clubs; instead it's a focused on the crucial skills that make or break a trip taught by professional, working guides. We'll cover navigation with a map and compass, what do do if someone in your party gets lost, how to plan, pack and prepare meals over an open fire, trip equipment and how to use, care for and maintain it, and how to light a fire under any conditions. Learn to stand in a canoe, pole up and down rapids, cook over an open fire, read the river to determine safe passages and gain the most useful asset a guide can have; experience.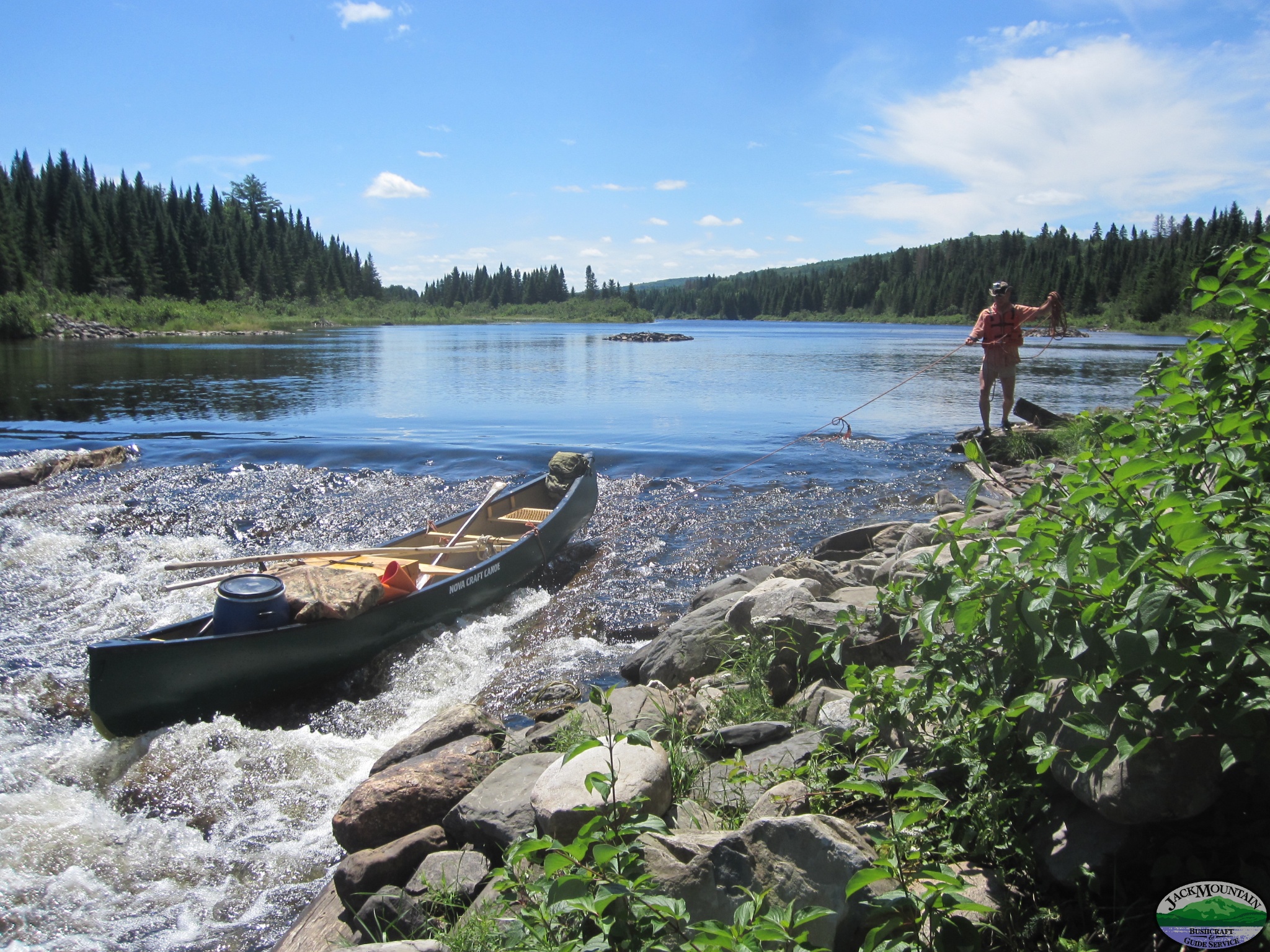 ---
Intended Learning Outcomes
Participants will learn to:
Plan, prepare, provision, pack, and guide a wilderness trip
Efficiently paddle a loaded canoe
Pole and snub a canoe
Set-up and line a canoe through rapids
Tie useful and appropriate knots
Use an axe, knife, and saw safely and effectively
Sharpen their axe and knife
Light a fire in dry or wet weather
Cook and bake over an open fire
Navigate with a map and compass
Take decisive action in case a member of their group gets lost
Tie a tumpline onto a wannigan for ease of carrying
Bake with sourdough
Safely manage a group in whitewater
Set up tents and tarps
---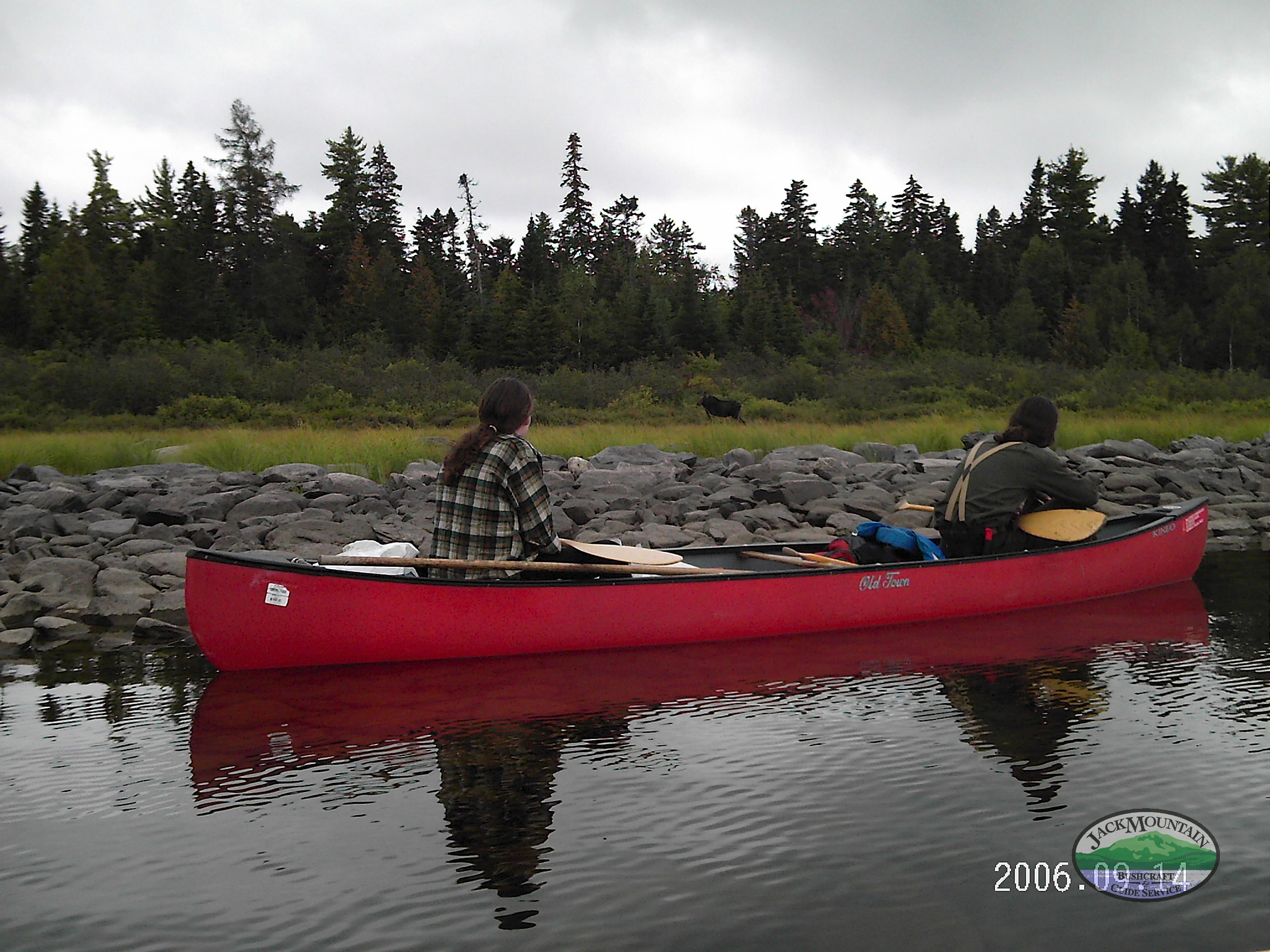 Note: In addition to the gear list, please be sure to bring a PFD (personal flotation device, also known as a life jacket) that fits you correctly. Optional but recommended, bring your own paddle.
---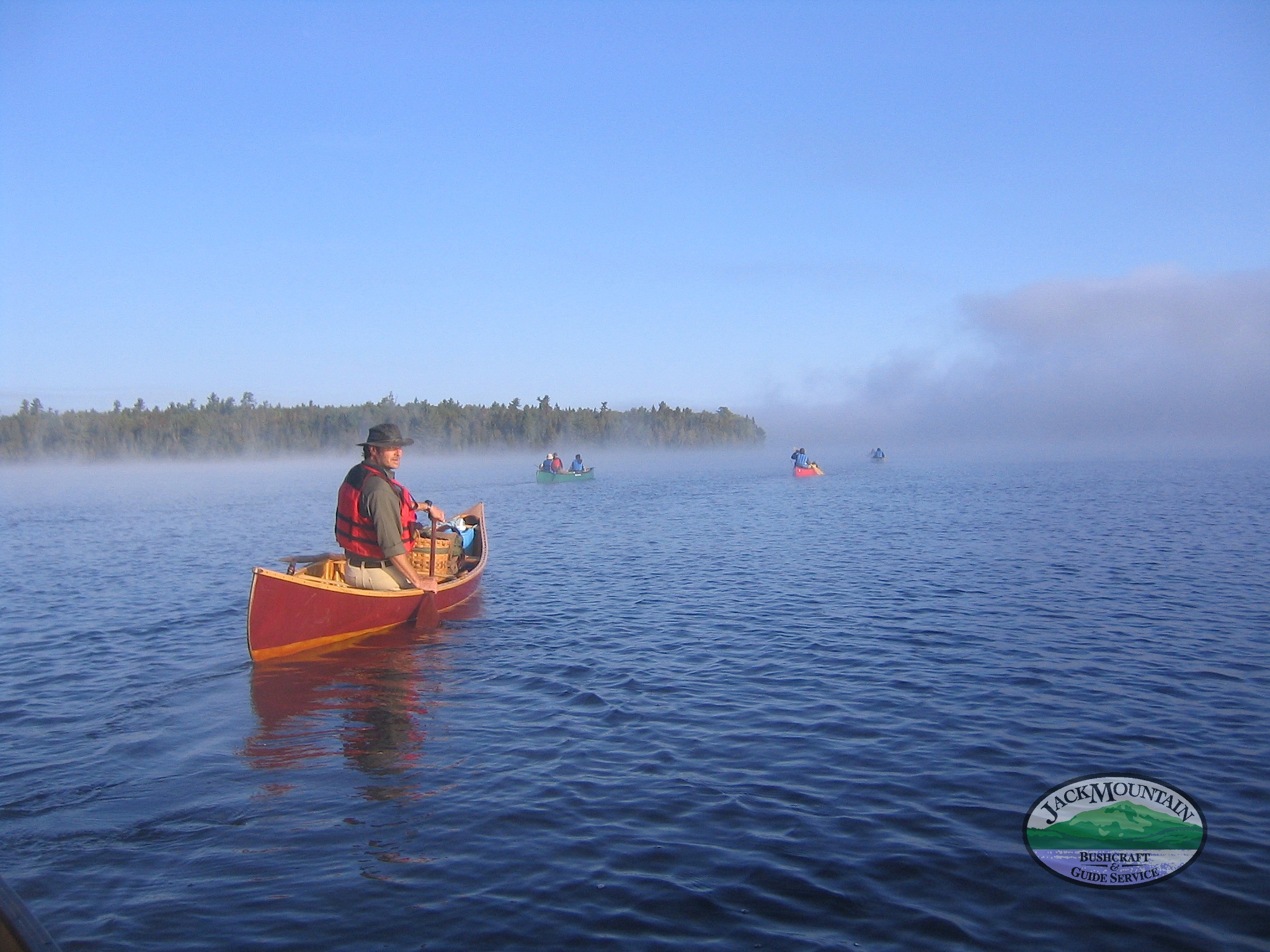 There are vast differences in approach to the effective use of canoes. Some of these are regional, while others stem from the homogenization of techniques by national organizations. Our approach looks nothing like what you'll see from the big organizations. We maintain and teach the traditional methods of Maine Guide canoeing because they work as well now as they have for centuries.
Traditional Maine Guide Skills
Most books and "experts" will advise that you never stand up in a canoe and that you shouldn't try to solo in a boat larger than 15 feet long. That advice is rubbish.
We spend most of our time in 18 and 20 foot boats, in everything from huge lakes to class 3 whitewater. Much of this time is spent standing and poling and snubbing (poling downstream). While rarely seen these days, poling allows us the freedom to maneuver up and downstream through all types of water. Our paddling style emphasizes the short stroke that was common amongst natives and voyageurs, allowing them to cover vast distances while expending little effort. We also practice lining, where we use ropes to safely maneuver the canoe up or down stream through a section of water unsafe to run.
We run various classes of whitewater, depending on the skill and comfort level of participants. Unlike whitewater schools, our goal is in the safe passage of people and gear, not play boating in different sections of rapids. We emphasize the skills of reading the river, helping participants to learn to see where the channels and rocks lie. We reserve the right to decide which sections of whitewater will be run, and where we will instead portage or line.
Our Teaching And Expedition Experience
Since beginning full-time operation in 1999, we've taught hundreds of people how to handle loaded freight canoes and how to paddle, pole and line. We've run day-long, week-long and month-long expeditions, as well as numerous skills clinics. We also make our own paddles, poles, and ropes used for lining.