First, you need to get to our headquarters at 1041 Garfield Road, in Masardis, Maine. You can plug this into any map software or GPS.
If coming from Masardis, we are 4.3 miles down the Garfield Road from route 11. If coming from Ashland, we are 7.1 miles from the bridge over the Aroostook river.
Your landmark is the big stone sign and big white barn by the road, like in the photo above. Here is the view from the other direction: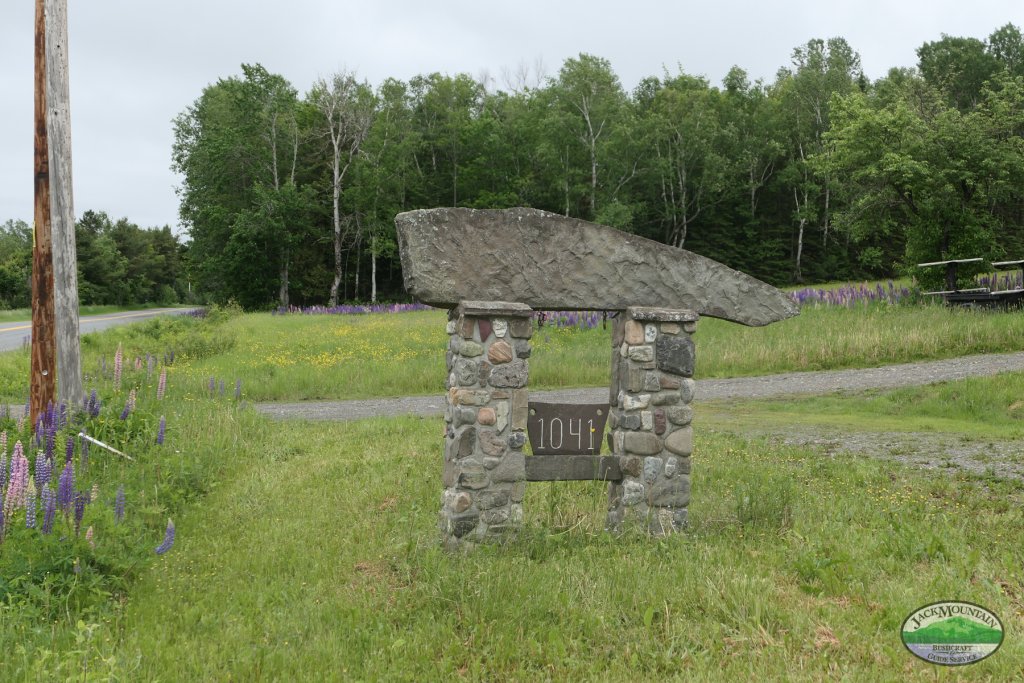 Pull in, the driveway loops around the stone sign. Then get back onto Garfield Road and turn right. in a little over 100 yards, you'll see a road on the left. That is Smith Farm Road, the access road to the field school. Turn down it. It is about 0.6 miles down to the field school. You will see a road on the right. Take it, then turn left to park.
---
Winter Programs
If you're coming to the field school in winter, park at 1041 Garfield road. Don't try to drive down Smith Farm Road to the field school because you will get stuck in the snow. We haul your gear in via snowmobile, you walk in (just less than a mile) on snowshoes on the snowmobile trail.
---
Arrival Times
Unless otherwise noted, arrival is on a Sunday. That Sunday is just an arrival day, but it is best if you arrive between 1 and 3 pm. Please don't arrive earlier than 1pm, as we are likely to be in town getting last-minute supplies and taking care of other things. Also, if you can avoid it, don't arrive after dark as it is harder to get the lay of the land, set up camp, etc. If you have trouble finding the place, give a call.