2024 Course Info
· Location: Northern Maine
· Length: 2 Weeks
· Dates: 2/18-3/2
· Sessions: 1
· Maximum Size: 8
· College Credits: 2
· GI Bill: Yes
· Tuition: $2200
2-Week Winter Survival Instructor & Snowshoe Expedition Guide Training Course
College-Accredited, GI Bill Approved
2024: Our 25th Year Of Multi-Week Snowshoe And Toboggan Expeditions
---
Experiential Learning, Expedition-Based
Winter in the boreal forest is a magical time, when all the bugs and people have settled down for the season and the mercury is pooled in the bottom of the thermometer. The waterways and low-lying areas, when frozen and covered with snow, make ideal routes for travel. Snowshoes are the means of travel, and burdens are transported by toboggan much easier than by backpack. The increased capacity allows the traveler to become nomadic, carrying a woodstove and canvas tent and several weeks worth of food. Home is where you set up camp, and while the cold and storms rage outside you can be snug and warm with the right knowledge, experience and a few well-chosen pieces of gear.
---
"Really deep powdery snow, lots of animal tracks, and the method of camping was beyond compare. We hauled all our gear by toboggan, which, after you pack down a float with your snowshoes, glide almost effortlessly over the snow. We were able to carry in much more weight than a heavy backpack, using only a fraction of the energy. Our tent was a 4 oz. cotton octagon that looks like a big circus tent, with standing headroom. We laid a bough floor over the snow, which kept everything inside smelling fresh, and dry, and made for a nice springy bed. The wood stove inside the tent heated the inside up to a balmy 80 degrees or so at ground level (despite it being -20F. outside in the mornings), and we cooked all our meals on it. The food was absolutely fantastic! We would spend an hour or so each day felling dead spruce and bucking them into firewood, haul a few pots of water from a hole in the ice, and that was the extent of our work for the day. The rest of it was ours to enjoy! We would track and learn animal habits, go for a snowshoe hike, read, cook, and look at the stars and observe the weather."
– Peter Frost, Boreal Snowshoe Expedition, 2004
---
Snowshoe, Toboggan And Hot-Tent Winter Living
Our techniques and philosophy for the winter trail come from those who routinely spent entire winters in the bush, and differ dramatically from what is currently known as winter camping. It is better described as winter living. It isn't carrying high-tech, ultralight gear for a short sojourn in the backcountry. Instead, it's learning the skills and techniques for an entire winter in the bush, and doing so in style with traditional gear. It is understanding winter's wisdom, and living in the cold with a comfort, grace and economy unheard of in the modern, high-tech style of camping that has spilled over from mountaineering.
But winter can also be cruel to those who don't know its ways. It is a season of narrow margins, and the effects of mistakes and bad judgements are magnified exponentially. Learning traditional winter bushcraft skills is the antidote to such events. Knowledge gained from experience guides you and keeps you safe.
The Boreal Snowshoe Expedition is a two week immersion into this lifestyle. Students learn traditional living and travel skills of the northern forest, not in a static classroom setting, but by actively living them on the trail.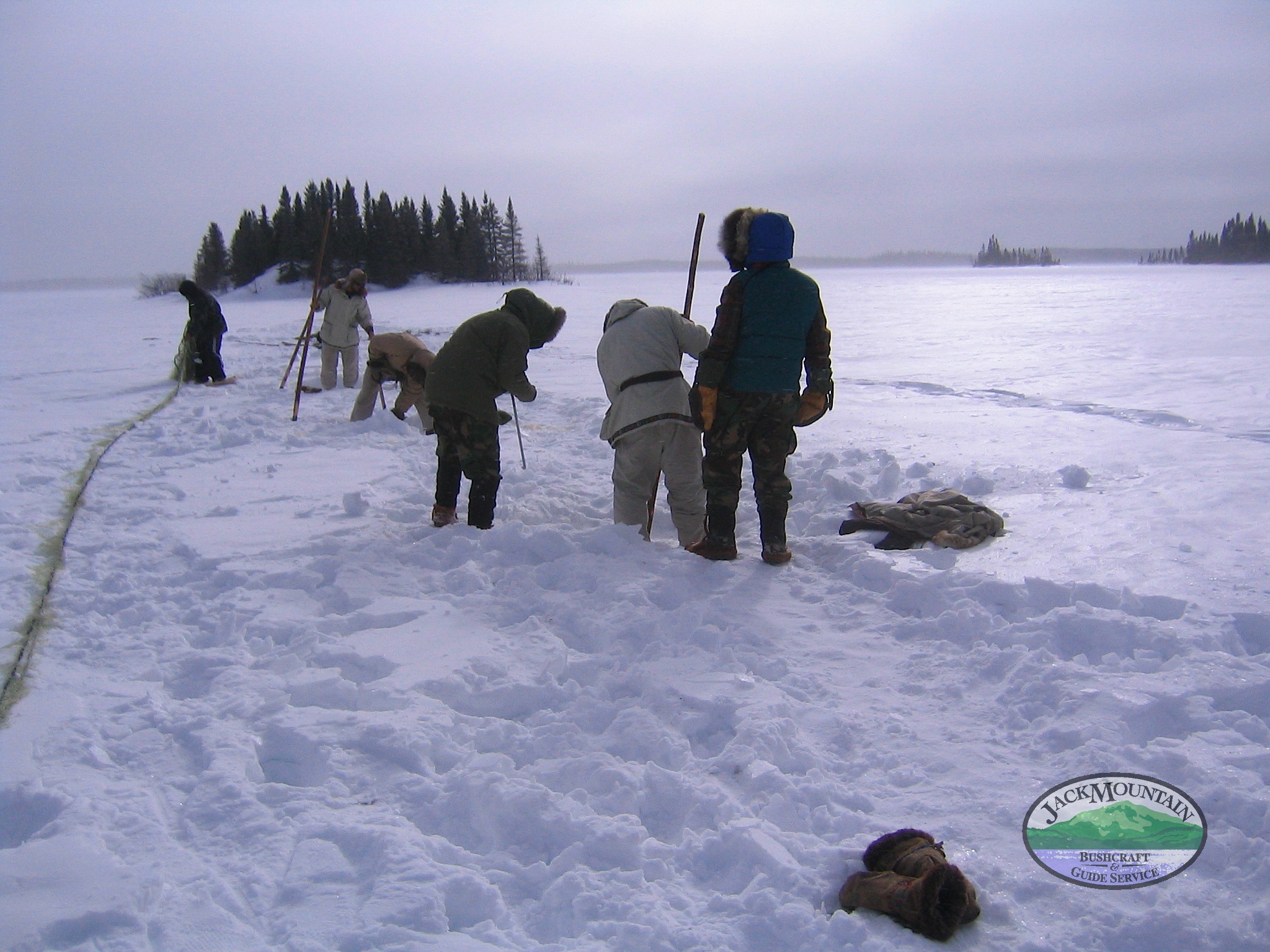 ---
Course Format: Four Phases
We live on snowshoes and in canvas tents outfitted with wood stoves. We haul our gear on toboggans as we travel across the frozen landscape. There are four phases to the progrqm, with each one building on the one prior.
Phase 1: Base camp, skills intensive. 2 days.
Phase 2: Winter travel technologies and ecology: tents, stoves, sleds, snowshoes, reading snow, reading ice, reading the weather.
Phase 3: Expedition. Living life on the trail. Traveling on remote waterways, moving camp, experiencing the true freedom of winter in the north.
Phase 4: Survival challenge. On Thursday morning participants take minimal gear and walk away from camp. They spend the day preparing for the long, cold night. After a night in a shelter in front of the fire, they return to base camp Friday morning at 10 AM. We debrief the exercise, then snowshoe back to civilization. The course is over Friday afternoon.
---
Curriculum: Deep Knowledge Based On Experience
On the BSE there is no room for spectators; each participant is expected to pull their own weight, figuratively and literally. Students will be given instruction, after which they'll be expected to put it into action. Each day they learn more about living in the bush in the winter. We draw on:
Bushcraft.  The art of living in wild places with minimal gear, or life without infrastructure. Includes making fires, using axes, knives and saws, cooking over a brush fire, living out under the blue sky, etc. Become comfortable being part of the landscape. A subset of bushcraft is wilderness survival. Learn the skills needed to survive and live in the boreal forest during the winter.
Ecology. We're not talking about skimming the surface; we're talking about getting deep. You learn about mammals and their tracks then identify them in the field. You study the weather and learn to predict it using observational forecasting. You study the night sky and learn to navigate using it. You learn static knowledge, then put it into action. There is an emphasis on winter tree identification and the ecology and life cycle of ice on the BSE.
Outdoor Leadership & Guide Training. The soft skills are what make or break a trip. Learn the skills of group dynamics, decision making, risk management and more. More  important that the individual skills, learn to think and act like a leader by modeling after professional guides who have led hundreds of trips, both summer and winter.
Crafting. Where our hands meet the natural world. Learn to make useful items from forest materials. Expect to be busy with your hands every day on the BSE. Occasionally we cross paths with people who will refer to this as "arts and crafts". It's much more than that. It's building what you need from natural materials. It's what changes you from being a mindless consumer to being an enlightened producer. Nothing makes you more self-reliant than doing and making it yourself.
Winter Expedition Skills. Learn to be an expert on snowshoes, make a quick snowshoe binding, load toboggans, tie essential knots, read the ice, use an ice chisel, set up canvas tents and trail wood stoves, cook over an open fire, and much more. As with all of our programs, the sum of the entire experience is much greater than combining the individual parts. You will learn a lot of individual skills, but when they're combined and become part of the experience, the result is more powerful.
---
Intended Learning Outcomes
Upon successful completion of the Boreal Snowshoe Expedition, students will:
1.  Demonstrate understanding of snowshoeing skills and using traditional bindings.
2.  Demonstrate understanding of safely setting up canvas tents and wood stoves.
3.  Demonstrate effective loading and securing of a toboggan.
4.  Demonstrate safe use of an axe to fell, limb, section and split trees for firewood.
5.  Understand the ecology of ice and choose safe travel routes based on this understanding.
6.  Navigate by map and compass, and also by using barehand methods.
7.  Understand the principles of dressing for the cold.
8.  Identify and interpret the majority of animal tracks in the snow.
9.  Identify all of the trees encountered.
10.  Demonstrate their knowledge or knife use by completing several handcrafts.
11.  Demonstrate their knowledge of outdoor cooking over a stove and open fire.
12.  Understand the soft skills of outdoor leadership and how they apply to the guiding arts.
13.  Document daily progress with individual skills in their logbook.
---
How Difficult Is This?
The Boreal Snowshoe Expedition has a Physical Challenge of 4 and a Technical Challenge of 3, on a scale of 1-5. If you want to participate you should be in good physical shape and have some experience outdoors in winter. Click through the links for more information.
---
Paying For the Course
& Making It Pay
For College & Gap Year Students: We work with students and colleges to provide college credit. We are actively seeking other partners at the university level. Past students have used consortium agreements and financial aid to help pay for the course. Students can earn 2 credits from Western State Colorado University that can be transferred to their home school. Other students have completed independent studies through their home institution to receive credit. More information on college credit.
For Military Veterans: 100% of the course tuition is covered by the GI Bill (more info).  We have also had students pay 100% of the tuition using vocational rehabilitation (chapter 31). More info.
Americorps Education Awards: Students can use Americorps Education Awards to pay tuition. More info.
Tuition Financing: We offer tuition financing allowing students to take several years to pay for the course (more info).
---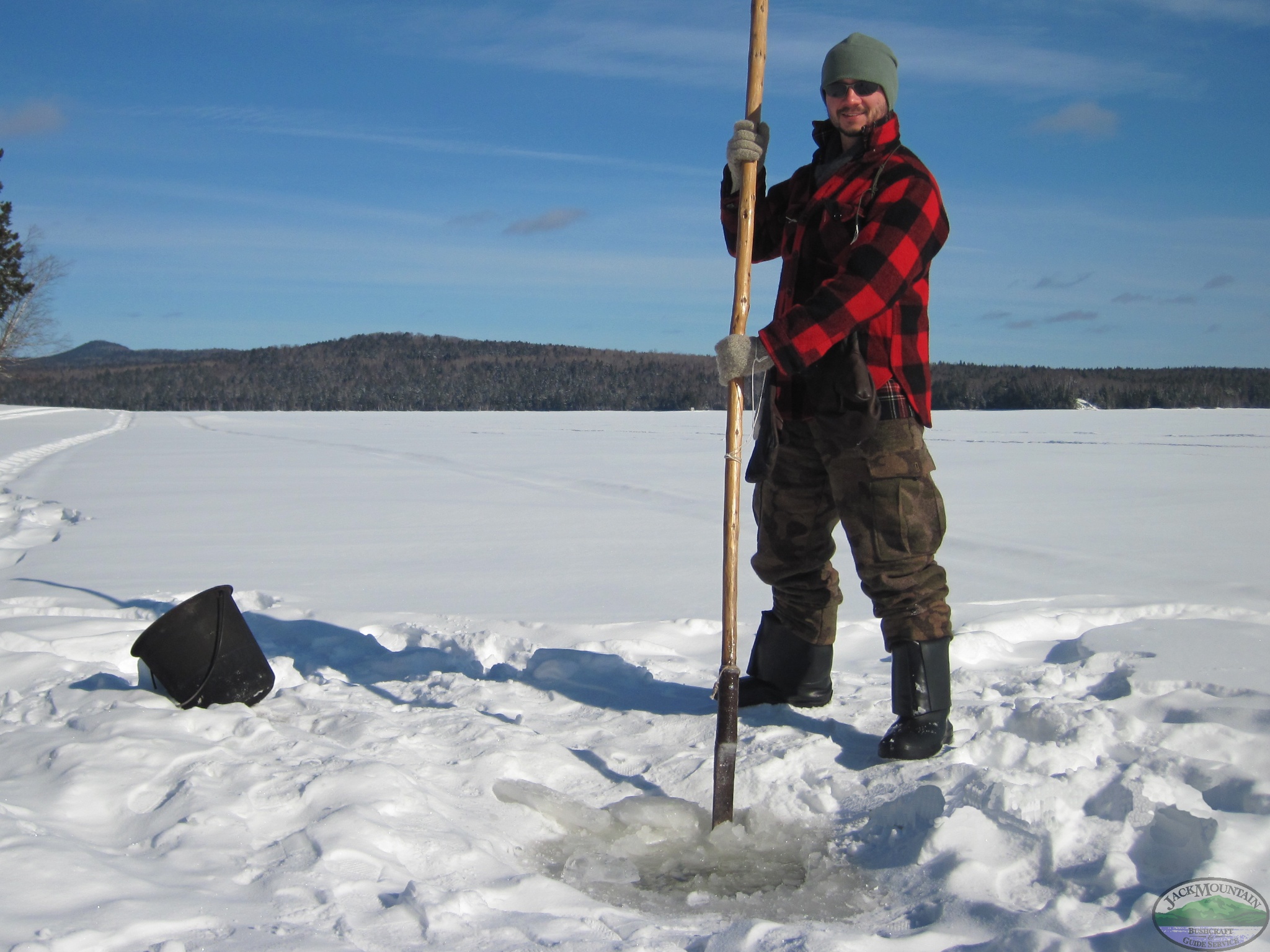 Our Winter Guiding Experience
We have 24 years of professional experience guiding multi-week snowshoe expeditions and teaching winter survival courses in Maine and points north. We routinely spend 5-6 weeks per winter on the trail living in canvas tents and on snowshoes in temperatures well below zero. We've been a full-time, year-round school and guide service since 1999. Our instructors are professional guides licensed by the state. Our curriculum is based on decades of field experience, not dogma and untested theories.
There are many outfits now offering winter survival courses of a day or two. Some of these even take place in locations where it gets cold and there is snow. These are fine if you're looking for a show and tell about gear, carving a few feather sticks and talking about knives, ferro rods, zombies, etc. But if you're looking to learn how to live in the northern forest in winter, do your research. A multi-week expedition in the field is a completely different animal than a short course. Our curriculum, instructors and professionalism stand out best when compared with other outfits.
---
Small By Design
The Boreal Snowshoe Expedition is small by design. We only have 8 spots for 2023. When they're gone you'll have to wait until 2024.
---
More On Winter Living
If you're new to snowshoeing, a good place to start is to read our article titled A Snowshoe Primer. Then check out the videos below shot during past Boreal Snowshoe Expeditions, as well as this podcast recorded by two participants of our 2018 BSE.

---
7 Elements Of Jack Mountain Programs
Skill – Journey – Craft – Nature – Culture – Sustainability – Self
Drawing on the philosophies of bushcraft we've developed over almost 20-years of field courses, the traditions of Maine Guides that go back generations, the Cree concept of miyupimaatisiium (translated as "being alive well") and the Scandinavian idea of friluftsliv (translated as "open air life"), the following seven elements comprise the components of our semester and yearlong programs.
1. Skill – Learn by doing. Too much of modern education is theoretical, abstract and sedentary, where the head is engaged but the hands are not. We depart from that norm with a tangible, hands-on approach that emphasizes being an active participant in the natural world and in life.
2. Journey – Travel through remote parts of the north woods alongside professional guides, directly experiencing what you're learning. Live in the bush for extended lengths of time where the focus isn't simply how-to, but living with efficiency and grace that come with extensive experience.
3. Craft – Explore the world with your hands. Build useful items from materials gathered on the landscape. Man needs tools to live. Making these necessary items from materials gathered from the landscape bonds you to the land and makes you self-reliant.
4. Nature – Learn the language of the world around you. Study the weather, edible/medicinal plants, fungi, mammals and their tracks, birds, fish, mollusks, insects, amphibians, reptiles, rocks, minerals, soil, water, ice, celestial bodies and ecology.
5. Culture – Culture is the human element, or soft skills, which make or break an expedition. Learn management and leadership skills crucial to the professional guide and outdoor leader, as well as how to instruct effectively.
6. Sustainability – Life is different with minimal infrastructure. Learn the techniques of living a simple, low-tech life with minimal inputs by living them every day. Compost everything that will rot, grow food, reuse and repurpose resources, care for the land and leave it healthier for future generations.
7. Self – Learn your specific needs and boundaries. In a world of generalizations, it's important to know exactly what you need to function well. How much sleep do you need to function? How much water? How much of a bed do you need to make in order to sleep well? This is about intimately knowing yourself and what you need to do to keep your body alive and well. The only way to learn it is to live it.